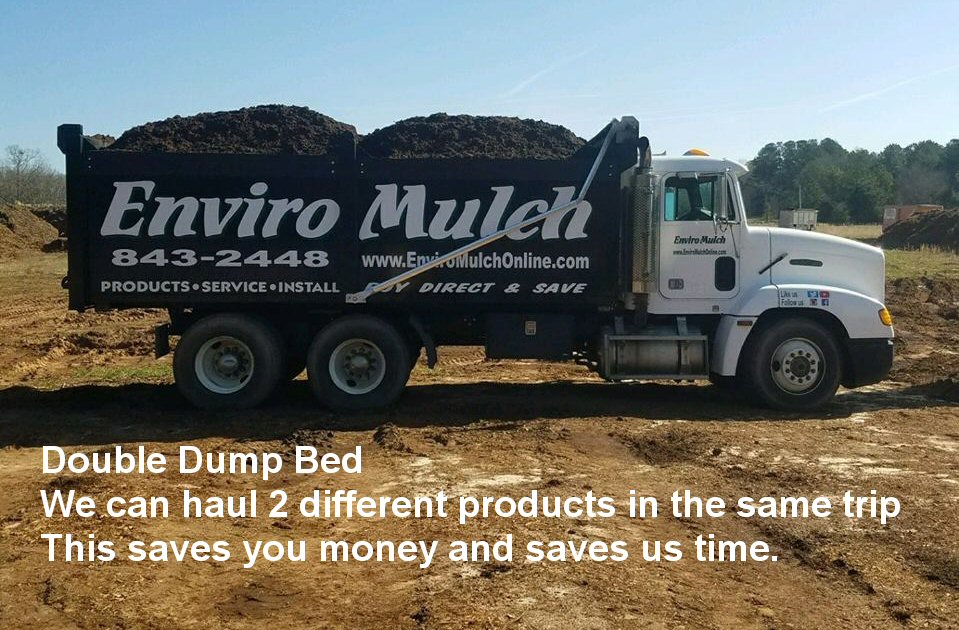 Our Double-Dump Bed truck is currently not in service.
We will have it available again as soon as possible.

We have 5 large single dump bed trucks still available to serve you.

Pick-Up Yard Hours


(Call first if rainy)
864-843-2448

M-F 8:00-5:30
SAT 8:00-3:00

Click The Button Below To Place An Order




No payment information required

Click the Mulch button at the left to view images of the products you are interested in.
Using the online order form will help us process your order quickly and efficiently.

EnviroMulch is the number one choice in Upstate South Carolina for Double Ground Natural Mulch, Dyed Black Mulch, Dyed Brown Mulch, Bark Mulch, Topsoil, gravel, sand and organic soil.

Delivery of our products is available to Greenville, Spartanburg, Anderson, Oconee, Pickens, Easley, Powdersville, Central, Six Mile, Clemson, Pendleton, and other areas in the Upstate of South Carolina.
You may also pick up your product at our conveniently located mulch yard.

ENVIROMULCH PRICE SHEET

Delivery Fees


Minimum delivery fee is $30
Deliveries through Gated Entrances or rough terrain may add additional fees.

Prices

FUEL SURCHARGE BY MILES
ORDERS OVER $ 140.00
$3 per mile
(Rounded up to next $10 increment)
ORDERS UNDER $ 140.00
(Rounded up to next $10 increment)
$6 per mile

PRICES SUBJECT TO CHANGE
FIRST DUMP FREE, $10.00 EACH
AFTER FIRST DUMP

COVERAGE WITH 1 SCOOP
2" THICK WILL COVER 150 SQ. FT.
3" THICK WILL COVER 100 SQ. FT.
4" THICK WILL COVER 80 SQ. FT.

864-843-2448
Email Us

Pro-Scape Hardwood -$28
Dbl Ground Hardwood -$22
Single Ground Hardwood-$22
Single Ground Pine $25
Double Pine Bark-$30
EnviroMulch Hardwood Blend-$24
Double Screened Recycled Blend-$18
Red -$28
Brown-$28
Black-$28
Bedding Mulch-$10
Play Chips-$22
River Sand-$35
Mason sand-$40
Fines-$30
Pea Stone-$40, 3/8-1/2 Inch
57 Stone-$36, 3/4-1 Inch
Crusher Run-$30
Surge Stone-$40, 2-4 Inch
Rip Rap-$50, 4-8 Inch
Asphalt Millings $40
River Rock 3/8"-3/4"-$115
River Rock 1-3 Inch $115
River Rock 3-5 $135
River Rock 4"-7"-$115
River Rock 7"-14"-$115
Boulders 18-36 Inch $90
Organic Soil Blend $30
Triple Ground Soil Amendment-$25
White Beach Sand-$50
Bioretention Soil-$45
Fill Dirt- $20
Wheat Straw-$7.25
BALES DEL. $1.05/BALE + FSC
Red Golden Long Needle PINE Straw-$4.95
BALES DEL. $1.05/BALE + FSC

.